TURN OFF, TUNE OUT, DROP OFF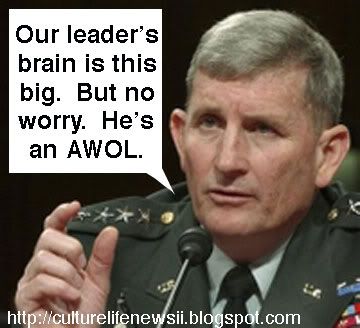 By Elaine Meinel Supkis
I think Americans are putting the pillow over the head and tuning out...except on the left. We seem to be just beginning to hit our strident stride. Heh. We aren't shutting down or shutting up, are we, gang?
Readership of mainstream news media is way down, TV news watching is way down, not triumphant American bombs blowing up cities! No, just bombs blowing us up, or rather, blowing up Gold Star Mom's kids. As the pro war demonstrators said so loudly, "We don't care!"
From the Twin Cities Star Tribune:
Twin Cities listeners have been tuning out political talk radio.
Locally, conservative-talk icon Rush Limbaugh's show has lost 43 percent of its audience among 25- to 54-year-olds in the past year. Sean Hannity's show is down a whopping 63 percent. The shift is serious enough that "we're weighing where these shows fit for us in the future," according to Todd Fisher, general manager at KSTP (1500 AM), which carries both syndicated programs.

Many Americans also are switching the dial. While ratings for political talk radio typically drop the year after an election, experts around the country sense something else in the air. Many metro listeners are turning to local, often sports-oriented shows.
"We're not sure yet what's really going on," said talk radio veteran Ken Kohl, Clear Channel's director of news and talk programming for northern California. "In general, the talk shows that are succeeding are ones that haven't been reliving the election, or constantly harping on the polarization between liberals and conservatives."
I have a suggestion for Clear Channel: run Marine recruiting ads 24/7 for free until we get enough soldiers so they can stop these third cycles through that Iraqi hell! After all, I remember before this stupid war, Bush told Clear Channel when he was going to cross the
Polish
er, Iraqi border on flimsy charges and so the radio station was poised, like Fox, to broadcast broadsides of patriotic music and pro war talk.
They are as complicit in this war crime spree as Tokyo Rose was in WWII. And like her, they should be punished.
Now ratings are falling because this war stinks. And the President stinks, too. And the stench or Rove makes the stink smell like roses in an outhouse.
So now they claim all those pro-war Americans who were stirred up by Clear Channel propaganda are now interested in movie stars! Well. They can stick their heads in the sand but what about this ugly news story:
From AP:
The Army is planning for the possibility of keeping the current number of soldiers in Iraq — well over 100,000 — for four more years, the Army's top general said Saturday.

In an Associated Press interview, Gen. Peter Schoomaker said the Army is prepared for the "worst case" in terms of the required level of troops in Iraq. He said the number could be adjusted lower if called for by slowing the force rotation or by shortening tours for soldiers.
Geeze. 4 more years! Let's do the math: 2 years=2000 dead so 4 years= 4000 dead. OK. All those Clear Channel listeners, listen up. We need besides the future 4000 corpses, at least 40,000 limbless/brain damaged people, too. So turn off that radio and go to your nearest recruiter.
Hut hut hut! What ya gonna be today?
We are going to go away!
Where ya gonna go away?
We are going to hell to play!
TO READ MORE CLICK HERE