NO NEWS TODAY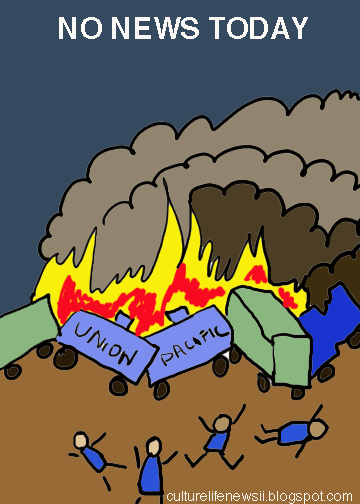 By Elaine Meinel Supkis
I troll the web for news. I spent two hours doing this with domestic news service then I visited Xinhuanet which is run out of China. To my surprize, here was a news story that is nowhere to be found in America:
From Xinhuanet:
One person was killed and thousands of others were evacuated Saturday in the south-central US state of Arkansas, after a train derailed and a tanker containing flammable gas exploded, local media reported.

Seven empty train cars and a tanker containing propylene derailed in Texarkana, southwest of Arkansas, when the Union Pacific train was hit in the back by another Union Pacific train coming from Chicago, the reports said.

At least two homes were destroyed, in one of which one person was killed, and at least seven people with respiratory problems were sent to hospital for treatment.

The tanker was still burning at midday, but the fire was under control, the reports said. Enditem
Now this happened fricking yesterday. I saw no mention yesterday in the news. None today in American news. Googled like crazy, got only one other news story...from Canada!
From Edmonton:
Seven empty train cars and a tanker containing a flammable gas derailed yesterday in a switchyard, exploding in a ball of fire that killed one person and forced the evacuation of hundreds of homes.

A plume of smoke covered the southern end of the city and at least seven people went to hospital emergency rooms with complaints of respiratory problems.

At least two homes were destroyed - including one where the victim died - and several vehicles were totalled in the half-kilometre area surrounding the accident, police spokesman Chris Rankin said.

At midday, the propylene tank was still burning but the fire was under control and the smoke had thinned out, Rankin said. Police recommended residents stay away from their homes.
This came from an AP feed. The AP feeds the NYT, for example.
This amazes me. I track the rise in callous feelings because if the media outlets don't carry stories of dead Americans this means Americans can die and no one will pay attention. The dying brain dead lady got tons of attention from the media and politicians because a political group wanted to use her body for passing laws preventing us from controlling our own bodies but when people die hither and yon, this is OK, it seems.
I could find no photos of this blow out. Normally, photos of burning stuff makes the news simply because it looks neat to our prehistoric minds which to this day is filled with wonder when viewing fires. I have noticed since the war in Iraq began, we have begun to deny death and destruction. The childish "pull the covers over the head" mentality has corrupted our ability to see even the most ordinary news.
It is buried.
So tornadoes take out parts of Wisconsin, trains blow up, bridges collapse, floods carry away homes, these things are no longer newsworthy. The floods in the Northeast, note how this is covered because it is in the Tristate region which has millions of people but the coverage is wane. It is as if those not being affected want to say, "Get on with your life," all the time.
It always shocks me to find American news in China first. Often, they wait up to a week to report things in America. Remember when newspapers raced to cover the news? Well, that is dead. When news has to give priority to propaganda shoots of the dictator or to fluff pieces for advertisers, this dilutes and destroys the real function of the news media which is supposed to report the fricking news, ie, new things happening that involve life and death issues and trains burning toxic chemicals and dead people and thousands evacuated because of this is news, not chopped liver.
To return to homepage click here