Fox TV's Cynical Xmas Hysteria Invades Their Business News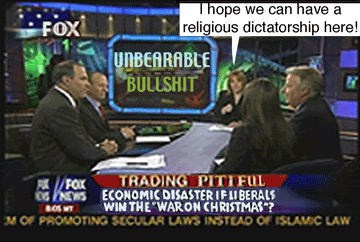 By Elaine Meinel Supkis
Crooks and Liars website
ran the screen capture of Fox TV's "Bulls and Bears" show. It is full of unintended irony. I wonder why these fatuous, cynical people are flogging the "Liberals are killing Christmas" meme when it is them who are reducing welfare to the poor and bah-humbugging Tiny Tim all the time?
The screen crawl at the bottom is the same news service with the latest propaganda ploy in Iraq, about how "secular" Iraqis (nearly all Sunnis!) don't want a religious dictatorship. Yet the right wing bloviators are screaming at us all that the winter festivities are not everyone's but are the sole province of the born again right wing white Christians. Namely, this isn't a holiday, it is only Jesus' birthday.
This crude attempt at intimidating all of us into handing over the classic Winter Solstice to a gang of ill tempered, ill educated lunatics is really fueling bad blood in America. The world watches, agast, as we out Taliban al Qaeda. Today, in the news, the GOP is talking about which tax cuts to give to the already very rich while cutting even more services to the poor. This is the exact opposite of Jesus who was a liberal, he even had long flowing hair. And a beard. So there!
Indeed, Jesus and bin Laden, if they stood side by side, would be hard to tell apart, wouldn't they? Long robes, long hair, long beards. Yup. Twins.
"Happy Holidays" was created to be civil to all people especially Jews who have had to endure terrible progroms and attacks on Christmas and especially Easter. To recognize they would be filled with trepidation and even fear upon hearing "Merry Christmas," the tradition of not saying this to them or anyone else has arisen for good reason.
The thuggish, snappy, ill tempered attacks on us all coming from the sour faced sour pusses pushing "Merry Christmas" has driven many of us to hating those words. I know, if anyone spouts that to me this winter, I will tell them to shove it. Instead of merely ignoring the hyperfluidity of merchantalism at Christmas (yes, my son wants video games, of course!) I am now in a very bad mood.
Bah on buying stuff. My son will get his thingie but not because I love Jesus. Jesus has absolutely nothing to do with all this. Orion rules the winter skies so I will dedicate it to that constellation, not Pisces which is the one appropriated by the Jesus nuts.
To tabulate the things that aren't even remotely Christian, reindeers, pine trees, mistletoes, hog's heads, puddings and pies, cookies and taffy, feasts and costumed characters like Santa are many of the non-Christian things we attached to the winter solstice festivals. Lighting all those lights is pure paganism.
There is a Jesus thing going now: Bethlehem, which has been cut off from humanity behind tall walls, a ghetto set up to imprison the native people of the Holy Land. Isn't that charming? Tear down those walls! If "protecting" people means murdering and enslaving millions, it is totally wrong. After all, Hitler was "protecting" Germany when he murdered all those innocent people!
And of course, we are doing this, too, today, in Iraq. Which takes me back to the whole damn Christmas thing: "Peace on Earth and Good Will Towards Men." You can't buy that. It has no price. It is what Christmas was supposed to be all about.
Peace.
To return to homepage click here
Washington Pest
To read more media news click here